Looking for Counseling or Therapy in Traverse City?
Call (231) 947-5234 Today to get 1/2 off your first session!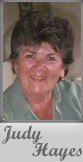 By making the choice to seek counseling, you have already begun to empower yourself towards change.
Keeping yourself and your relationships emotionally healthy takes work, energy and commitment. Sorting through issues and finding practical solutions is possible when you work with an experienced and supportive therapist.
Marriage Counseling
Relationship Counseling
Therapy
Financial Stress
Health and Aging Concerns
Personal Growth
Loss & Grief
Coping Skills
With over 25 years of experience in private practice with individuals and couples, Judy Hayes provides an environment of
trust and emotional safety, working toward growth and solution-focused results
Credentials
Judy Hayes received her Bachelor's Degree from St. Cloud State University, St. Cloud Minnesota, and her Master's Degree from the University of Alabama, Tuscaloosa, Alabama.
She has obtained the highest level of Postgraduate Certification and is a Board Certified Diplomat. In addition, she receives yearly training in counseling techniques and other areas of clinical interest.